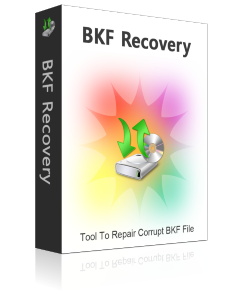 Quick BKF Recovery Software -

BKF Viewer
Attributes of BKF Recovery Tool:
Newly Updated "Range Based Scan" feature to repair BKF file partially. (Recover only selected file by this advanced option)
Repairs BKF backup files created by Windows & Symantec backup utility.
Search, open and view option available in demo version.
Quick and Deep scan to perform quick and deep recovery.
Compatibility with 98, ME, NT, XP, Vista, Win 7, Win 8 & Win 10
BKF Recovery is an Untroubled Process Now
In an organization, the data grows rapidly and to protect this database users are creating backup copy. Backup has its own importance, especially when at the time of data disaster situation that can be occurs owing to many reasons like software and hardware malfunction, Virus attacks, hard drive error, software corruption, etc. In this situation, you need to get professional help from outside in the form of Quick BKF Recovery tool. By using Windows BKF file recovery tool you can easily execute backup database recovery process. It also supports to recover system state backup files.
BKF Repair tool is one rich tool that satisfies all the users who need to repair BKF files. If NTBackup.exe utility throws an error message while restoring backup database that means it needs to repair. For doing this task, get help at here that successfully works with all Windows platforms and able to recover Windows backup database that contains PDF document, Zip archives, PowerPoint presentation, Photoshop files, Word document, Excel sheets, Video & Photos, Music files, etc.
Quick BKF Viewer – Open BKF File with A Lot of Ease & Speed
BKF Repair is a very useful utility for users in small or big firm; all backup files can be recovered without missing any file. This tool is also known as Quick BKF viewer tool that allows users to open BKF file and makes able to generate free preview of backup files. "Range Based" Scan is newly added feature that saves time. Suppose if you have more than 50 GB database and wants to recover only 25% data then this feature helps you to do partial recovery.